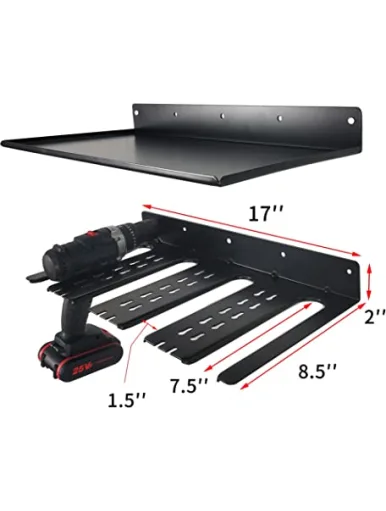 Diy Power Tool Storage Rack,drill Storage Rack,drill Organizer Shelf
Heavy Duty Wall Mounted Drill Holder Storage Rack for Handheld Metal Power Tool Organizer Power Tools Floating Tool Shelf

Can't find your hand-held electric drill? Or screwdriver, wrench, tape measure, precious toolbox?
Our Power Tool Organizer is definitely your best choice! You will have everything in one position that makes it easy to grab and return a tools. No more messy or missing tools again!
THE ULTIMATE TOOL ORGANIZER BUNDLE and the perfect solution for garage tool organization. Our wall storage shelf organizers mount on your wall & come with an 8" magnetic tool belt. Great for your home garage or professional workspace
HIGH WEIGHT CAPACITY drill storage rack is designed for holding heavy drills and other tools. The power tool holder holds up to 4 drills (fits most drills) and the bundled organizer shelf is perfect for storing loose accessories such as tape measures, carpenter's pencils, nails, etc
STURDY & DURABLE laser-cut tool shelf hanging storage is made of premium iron with a smooth black finish, resulting in a drill holder wall mount tool storage set that's strong, robust and looks great
EASY INSTALLATION lets you have your drill organizer wall mount shelf set up and ready to go in a matter of minutes. The included hardware ensures you have everything you need to successfully setup your power tool organizer wall mount and shelf
SPACE SAVING hanging power tool storage organizer garage shelf turns your empty wall into the perfect tool organization solution. Free up valuable real estate on your work bench by throwing those messy tools onto our wall mounted tool wall organizer. Revive your workbench and Click "ADD TO CART"!