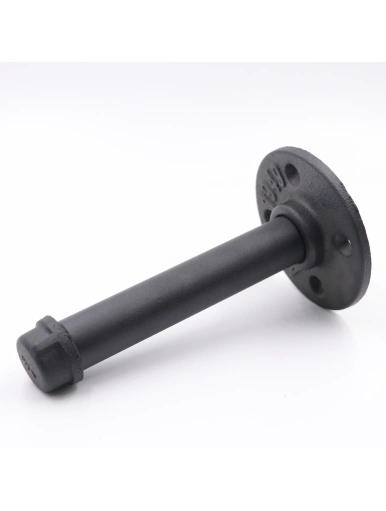 Black Industrial Iron Pipe Shelf Brackets
Designed to give your decor a sleek, industrial touch
Includes all materials required for making 4 individual brackets
Pipe made of welded schedule 40 steel for strength and durability
industrial pipe shelf brackets, 8 in. straight industrial iron pipe shelf brackets in a set of four. Add eye-catching style to your new set of shelves with these heavy-duty, industrial pipe brackets. Cast iron fittings and black steel pipe pair impeccably with woods of various colors and sizes. Treat your visitors to your sense of style and attention to detail.
These black pipe shelf brackets fit a surprising number of looks and aesthetics, including steampunk lighting, industrial, factory, French country farmhouse, vintage, retro reclamation, and D-I-Y. You will know industrial pipe shelf brackets and accessories when you hold them. Beauty and beast. Strength and style.
This is real industrial pipe for your creative design needs. Accept no substitutes. All our pipe and fittings come coated in a light industrial grease to prevent rusting. Clean and seal each piece, before assembly, to ensure that they stay rust-free. After cleaning, seal the pipe with polyurethane spray to protect it from rust and scratches.
1,pipe shelf bracket includes all materials necessary to make 4 brackets
2,Assembled brackets will hold a shelf up to 7.25 in. deep
3,Weight tested to hold up to 50 lbs. with anchors and screws
4,We recommend screwing the flanges into wood studs
5,industrial pipe shelf brackets use 1/2 in. pipe and comes with all necessary fittings, flanges, screws, anchors and a set of step-by-step instructions needed for assembly.
6,Flanges are for decorative use only and not meant for plumbing applications
7,Our pipe is made from welded schedule 40 steel and the final color varies from dark grey to black
8,Cleaning and sealing instructions included
9,We recommend wearing gloves during the cleaning process, this will keep the oil from getting on your hands
10,Wood shelving and decor items are not included
11,Assembly is required
iron pipe shelf brackets

| | |
| --- | --- |
| Products name | industrial pipe shelf brackets |
| Material | 1/2 in. pipe |
| Surface  | black powder coating |
| Size | 6 inch, 8 inch,10 inch,12 inch |
iron pipe shelf brackets
Size 8"
Set includes: 
(4) 1/2 inch flange;
(4) 1/2 inch X 8 inch pipe connector; 
(4) 1/2 inch cap and mounting hardware. 
Package dimensions  8.4 x 4.6 x 1.9 inches
Size 10"
Set includes: 
(4) 1/2 inch flange;
(4) 1/2 inch X 10  inch pipe connector; 
(4) 1/2 inch cap and mounting hardware. 
Package dimensions 11.3 x 5.4 x 2 inches
Size 12"
Set includes: 
(4) 1/2 inch flange;
(4) 1/2 inch X 12  inch pipe connector; 
(4) 1/2 inch cap and mounting hardware. 
Package dimensions 13 x 5 x 1.5 inches