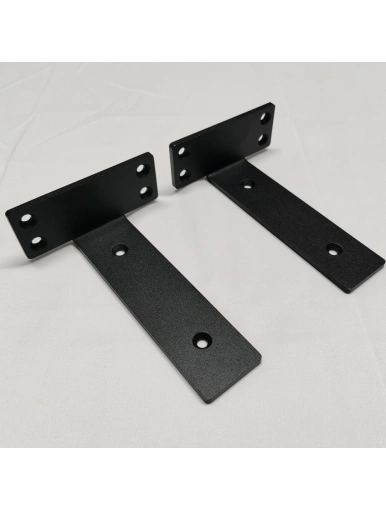 Heavy Duty Black Metal Wall Shelf Brackets
heavy duty wall shelf brackets are made of 5mm steel
heavy duty wall shelf brackets
Product name
black wall shelf brackets
Material
Steel
Material thickness
5mm
Surface finished
black powder coating
Size
6"
8"
Application
The metal wall shelf brackets for shelves is suitable for living room, study, kitchen, bathroom
Easy to install
All you need to do is drill the holes and secure them with the included screw fittings
REAL HIDDEN BRACKETS: These black wall shelf brackets have no lips and can be truly hidden. The base can be blocked by the plank, creating an amazing floating illusion. Compared with other floating shelf brackets, this bracket is easier to install
REAL HEAVY DUTY: This kind of black wall shelf brackets is thicker and heavier, each one has a solid weight and density. Weight capacity of 150 lbs per pair. The surface of the frosted particles has a richer texture, has anti-scratch and anti-rust functions, and can be used for life.
HEAVY DUTY SCREWS: The package includes 2 supports and screws. The countersunk screw hole guarantees that the nut stays flush with the bracket without being obtrusive.
PERFECT DIY PROJECT: Improve item storage efficiency. Make the most of your family space. Including but not limited to kitchen, bathroom, bedroom, office, warehouse. You can even use it as a cat climbing wall support.
Surealong could make metal wall shelf brackets with OEM service,please contact us for more details.