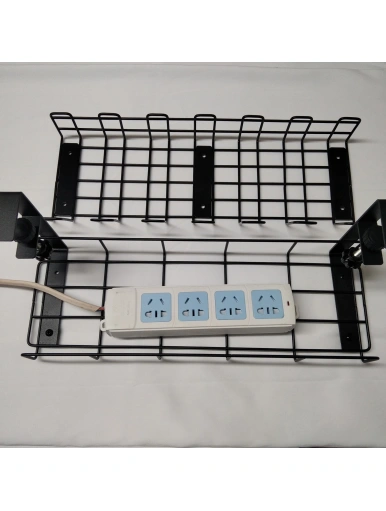 Under Desk Cable Management Baskets
-The under table wire basket is a good solution to organize those messy cables hanging from your desk!
-The cable basket under desk can be used under desks, tables, or on walls
-It can collect cables and cords together, making it easier to keep your work area tidy.
-This under desk cord basket has lots of space for cables and power strips.
-It is your practical power strip holder and will not bend under the heavy weight cables.
-The wire basket for under desk is made of premium iron material, giving it sturdy construction.Sturdy powder-coated steel, available in silver, black and white
-Steel installation brackets with pre-drilled holes for easy assembly under desks or on walls
-Mounting hardware included
Surealong under desk cable management baskets
If you are looking for a beautiful and under desk cable organizer, then your research is over here. That's because our desk wire basket products can satisfy your need. High durability, not easy to break. It will be a good choice for you. Can be as a gift to your friends.
-The under table wire basket is a good solution to organize those messy cables hanging from your desk!
-The cable basket under desk can be used under desks, tables, or on walls
-It can collect cables and cords together, making it easier to keep your work area tidy.
-This under desk cord basket has lots of space for cables and power strips.
-It is your practical power strip holder and will not bend under the heavy weight cables.
-The wire basket for under desk is made of premium iron material, giving it sturdy construction.Sturdy powder-coated steel, available in silver, black and white
-Steel installation brackets with pre-drilled holes for easy assembly under desks or on walls
-Mounting hardware included 
wire basket cable management
Products name
cable basket under desk
Key words
under desk basket cable tray,cable management basket
Material
steel wire
Surface
Powder coating
Sizes
390x160x125mm
The sizes could be customized according to your demand
Package
one cable basket with screw set