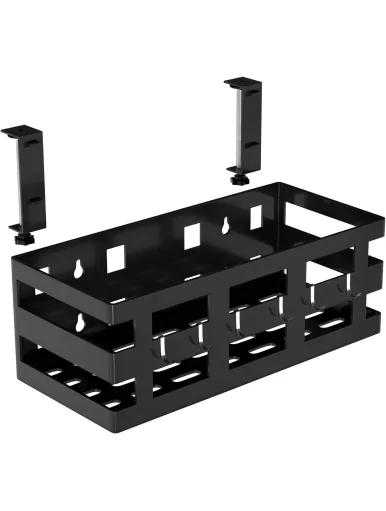 Outdoor BBQ Grill Tool Grill Storage Box
L=13.0" x W=4.3" x H=4.7"
Keep all your outdoor BBQ essentials organized with our Grill Storage Box.
Our Outdoor BBQ Grill Tool Grill Storage Box is the perfect solution for keeping all your essential barbecue tools organized and within reach. With multiple compartments and pockets, it provides ample space to store your grilling utensils, sauces, and other accessories. The durable and weather-resistant design makes it suitable for outdoor use, while the sturdy handle ensures easy portability. Whether you're an experienced grill master or a weekend BBQ warrior, our Grill Storage Box is an essential tool for ensuring a successful outdoor cooking experience. No more digging through a cluttered bag or rummaging for misplaced tools - stay organized and ready to grill at all times.
outdoor grill storage box
Material
Steel
Surface
Powder coating
Bom
1x BBQ Accessories storage box
1x Paper towel holder(11-3/8")
2x metal mounts
2x screws
1x Seasoning Bottle Slot
Key words

bbq storage box,grill tool box,bbq tool storage box

Description
【EXCELLENT COMPATIBILITY】— Designed for organizing Blackstone griddle accessories and seasoning. Fits a wide range of grills and griddles with side table, if the height of your side table is less than 3.5 in and where no objects like buttons or hooks, the caddy will be compatible. Besides, you can also install this item in your kitchen use the screws.
【EFFORTLESS SETUP】— Tight the 2 mounting brackets on your Blackstone griddle's side shelf, and hang our grill caddy on them. Next, hang the paper tower holder on the caddy. Your Blackstone griddle accessories and seasonings will be beside your hand with this griddle caddy.
【UPGRADED DESIGN】 — Added two rows of mounting holes on the back of the griddle caddy, so that the caddy can be installed closer to you, making it easier for you to access barbecue supplies.
【ANTI-SLIP & ANTI-SCRATCH】 — 4 silicone gaskets can be used to stuck on the place where the mounting brackets are in contact with the flat top grill. Anti-slip function keeps the griddle caddy stick tightly to your grill, anti-scratch function Reflected in Isolate metal and metal contact, protects the surface of your griddle.
【HOOKS & TISSUE HOLDER】— The hooks can be hang higher and closer to you for easy use, and won't fall off when taking accessories like S hooks. Because the paper towel holder is a cylinder, the turning of your paper towels will be smoother.
Surealong bbq tool storage box
Designed for Blackstone griddle, grill, table and kitchen.
Makes your countertop neater and provides more space for you.
Storage all of your barbecue accessories and seasonings, to make cooking easier.
Removable and Clamped Hooks
1,The J hook's rear end is clamped, and very stable. Won't fall out of the hole like the S hook.
2,Always still, won't wobble like the S hook, and easy access to grilling tools.
3,Hang the hooks higher and closer to you, you don't have to bend over so hard to get your tools and the accessories will stay on your fingertip.
Spacious Interior
L=13.0" x W=4.3" x H=4.7"
The caddy can hold about 6 bottles, your seasonings will be easily accessible, and the countertop can be used to place your dishes, making your cooking more organized and comfortable.
Easy-to-install Paper Towel Holder
The clip-on paper towel holder is very easy to install and won't be ripped off like a magnetic paper towel holder. The vertical placement method is convenient for kitchen paper access.
Protect Your Griddle
Silicone gaskets will avoid direct contact between your griddle and the metal mounting bracket, protect your griddle from scratches and rust, and there is also anti-slip effect, making the caddie more stable.
No Drill & Fast Installation
Mounting bracket already assembled
1,Install the magnetic tool holder.
2,Tight the 2 mounting brackets.
3,Slip the caddy in the lip of 2 brackets.
High Load-bearing Capacity
The installation method that conforms to engineering mechanics creates the strong bearing capacity of our caddy, so it can hold up to 30 lbs, keep your accessories very well!